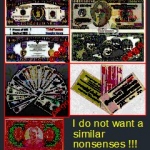 Lots sent:
33
Lots received:
33
Lots in progress:
3
Stars received:
4.91
Country:
Czech Republic
Languages:
English
Member since:
14 February 2017
Last activity:
13 November 2018
Hello
My name is Karel. I am interested in banknotes from around the world.
They does not have to be in the UNC quality but please undamaged.
Only officially issued banknotes - please do not send me hell banknotes,
cheques, vouchers, emergency money, 0.25 or 100000 or 1000000 US dollars,
movie money, copies of bills and other nonsenses.
Personal exchange is welcome.