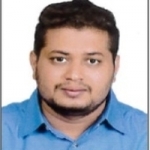 Lots sent:
7
Lots received:
5
Lots in progress:
1
Stars received:
5.00
Country:
India
Languages:
English, Gujarati, Hindi
Member since:
28 April 2018
Last activity:
08 December 2018
Hello 
My name is Maulik Kasari. I am from India. I am interested in banknotes (old,new) from around the world. Also collecting Coins, Stamps (theme - Aviation, Aerophilately) from around the world.
If possible prefer UNC.Thanks in advance.